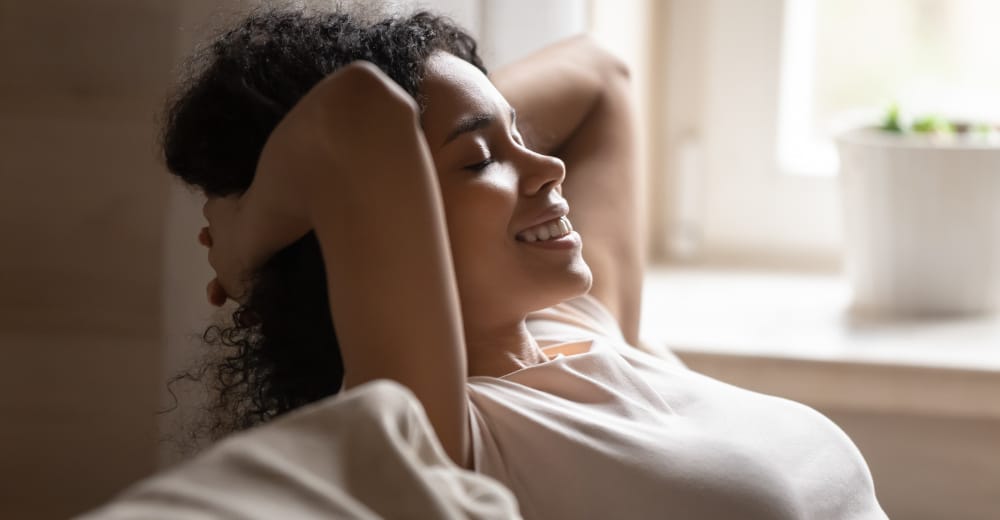 Sedation Dentistry in Rincon, GA
Overcome Your Dental Anxiety for a Stress-Free Visit
Most patients appreciate a trip to the dentist as an opportunity to improve their oral health and brighten their smiles. Sadly, not every person can be quite so upbeat when it comes to visiting the dentist's office. Fear of the dentist (dentophobia) leads to as many as 9% to 20% of Americans choosing to avoid dental appointments. The iHeart Dental team understands that these folks need a little extra support in order to receive the care they need. Our sedation dentist, Dr. Misty M. Seale, accommodates these high-anxiety folks by ensuring our dental treatments include a custom-designed sedative component.
Our office offers two types of sedation, nitrous sedation and oral sedation dentistry. Both are able to drastically reduce if not outright eliminate, any discomfort. We still administer local anesthetic for a conscious sedation experience, but your response before, during, and after the procedure will be significantly more positive. This culminates in an overall better, anxiety-free dental experience. Contact us online or call our office in Rincon, GA (912-499-1133) today to learn more!
What Is Sedation Dentistry?
Our sedation dental care uses medication to help patients feel calmer and more relaxed during a dental procedure. An anxious, unhappy experience is not ideal for either the patient's mental state or the doctor's ability to provide excellent dental services. Nobody wants you to be uncomfortable throughout your treatment. Also, the dentist can work more efficiently when you are totally at ease. Dental sedation care is a safe and easy solution. Although some people call it "sleep dentistry," that is a bit of misnomer. You rarely actually doze off during sleep dentistry. Most of the time, you will remain awake, albeit in a happier, giddier, and more comfortable condition.
Oral Sedation Dentistry in Rincon, GA
Oral sedation uses medication in the form of a pill (or multiple pills) in order to minimize or eliminate fear and feelings of anxiety. Our sedation dentist will adjust the dosage according to your specific needs and situation. Generally, the sedative effects will range from mild to medium. This is a popular option because it requires no needles, is simple to administer, and allows for you to remain responsive while in the dentist's chair.
Is Dental Sedation Care Safe?
Our dental sedation services are completely safe, as long as the patient is healthy enough to receive it. The iHeart Dental staff will thoroughly pre-screen you in order to ensure that you are indeed in strong enough health to be sedated. This means we will evaluate your medical history and closely monitor your vital signs before determining whether to move forward with dental sedation services. We also provide consent forms if you choose an oral sedation option. The team will handle all of the administrative details and payment for treatment up front, before sedation is given. While sedated, you will remain under our careful watch the entire. At the end of a procedure that uses oral sedation, we personally escort you out via wheelchair into the care of your driver.
How Much Does It Cost to Be Sedated at The Dentist?
The costs for oral sedation and nitrous sedation will vary widely. They are generally dependent on your particular insurance coverage. Our team is happy to work with you to help identify the most affordable care options. Please do not hesitate to reach out with questions or concerns about payments beforehand.
A Smile is the Key to Everybody's Heart
We are dedicated to providing the highest-level dental care in a comfortable and relaxed setting while giving love, compassion, and respect for our patients and their dental needs leading to a healthier smile.
What Medication Is Used for Oral Sedation Dentistry?
The iHeart Dental team usually prescribes Halcion in 0.25 mg tabs for oral sedation. Typically, the dentist will prescribe you four tabs of this medication. You then fill the prescription out at the pharmacy. For most patients, Dr. Seale recommends taking one tab an hour before the dental procedure. You should then bring the rest with you to the appointment.
The effects of Halcion oral sedation can last for many hours, often beyond the duration of the procedure. In most cases, the working time of Halcion oral sedation is about 2.5 hours. This prescription in particular is great because it puts you in a sedated state (or a "twilight" state), during which time you can still respond to verbal commands. However, it also has a pleasant amnesia-type effect. This means fewer anxiety-inducing memories of your time in the office. The dentist will sometimes prescribe Xanax or Valium oral sedation in a few cases, but these are not the drugs of choice due to their inability to induce any memory loss.
Laughing Gas Dentistry in Rincon, GA
Dr. Seale is also a highly experienced laughing gas dentist. Laughing gas uses a mixture of nitrous oxide and oxygen to help patients feel more relaxed. There are a very wide range of responses to nitrous sedation, the most famous of which is laughing. However, some patients may also experience other symptoms such as crying, sleepiness, or light nausea. Our laughing gas dentist is very careful to titrate the nitrous delicately in order to create the best desired effects. A big advantage of laughing gas is that the effects come on and then leave the body very quickly. As soon as the procedure is complete, the patient can leave without extra accommodations. This means you will not need someone else to drive you to and from your dental appointment.
Ready to Conquer Your Fear of the Dentist?
The iHeart Dental office houses the best sedation dentist in Rincon, GA. We prioritize your well-being and comfort from the very first conversation we have to the final steps of your procedure and recovery. Our goal is to guarantee that you are set up for a lifetime of healthy smiles. If dental anxiety is a hurdle you are struggling to overcome, iHeart Dental is here to help. Find out what our sedation dentists can do for you by calling our office in Rincon (912-499-1133) or contacting us online today!