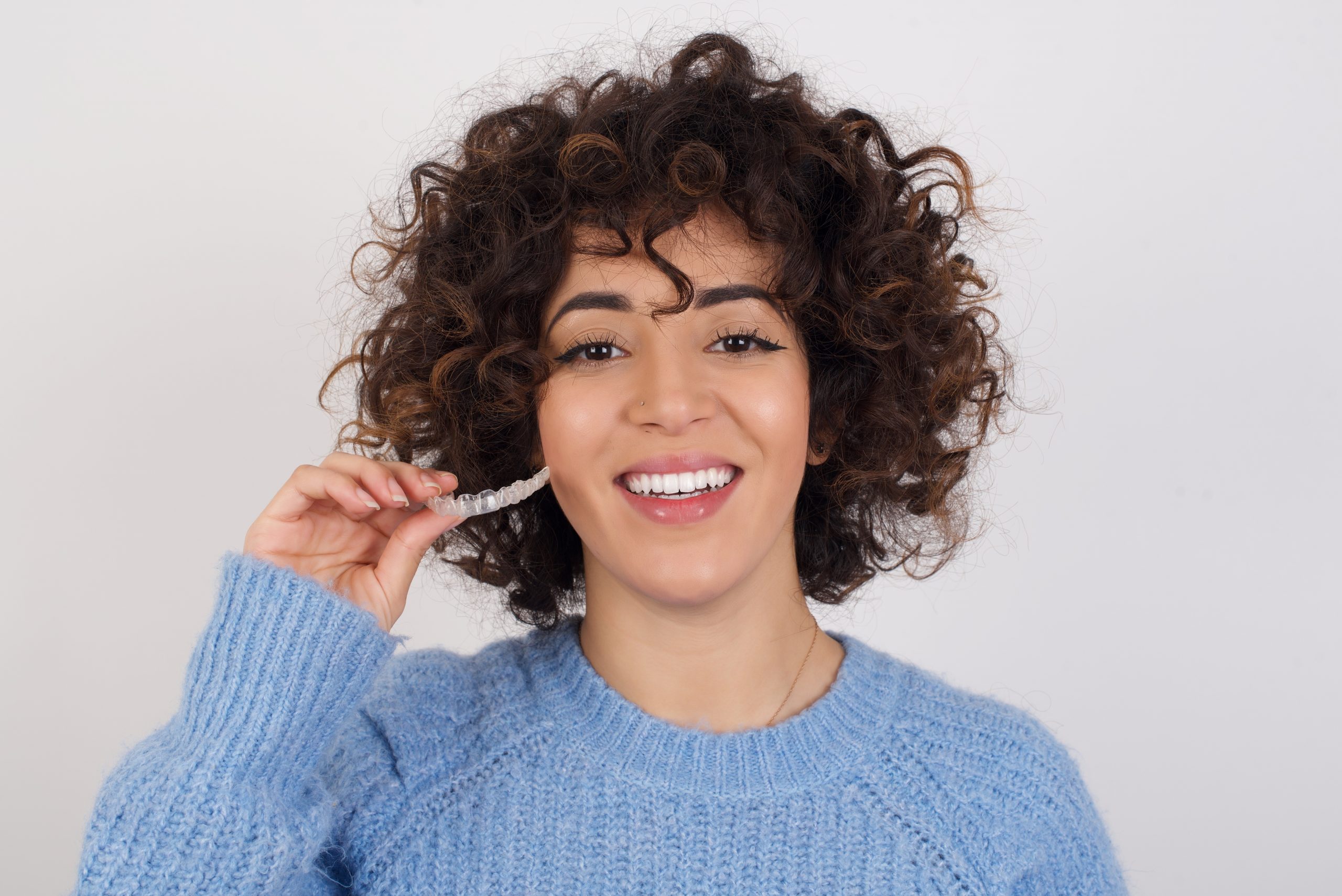 Clear Aligners in Rincon, GA
Nothing is more satisfying than having a beautiful smile. If you have issues with alignment or crowding, iHeart Aligners may be the best way to straighten your teeth and achieve the perfect smile you deserve. 
Clear aligners are almost invisible, thin, easy to wear, and an attractive alternative to wired braces. They don't have the metal wires or brackets associated with conventional braces, speech isn't impeded during treatment, and you will be able to brush and floss your teeth normally. They are ideal for adults who wish to solve minor to moderate tooth alignment issues without using traditional braces, veneers, or crowns.
What are Clear Aligners?
Clear aligners, such as Invisalign, are a modern and advanced way to align the teeth. iHeart Aligners are a new and unique clear aligner system incorporating digital technology and 3D Printing to design and fabricate clear plastic aligners used during orthodontic treatment for straightening teeth. The process involves wearing clear plastic trays that are molded to fit the impressions of the mouth. The teeth aligners are worn most of the day and during the night, too, and you receive new and tighter trays every six weeks during the process.
Conditions Invisible Aligners Can Treat
iHeart Aligners can treat the following conditions:
Crowded teeth

Gaps between teeth

Minor bite issues

Crooked teeth
A Smile is the Key to Everybody's Heart
We are dedicated to providing the highest-level dental care in a comfortable and relaxed setting while giving love, compassion, and respect for our patients and their dental needs leading to a healthier smile.
Clear Aligners Vs. Braces 
iHeart Aligners offer several benefits over traditional braces, including: 
Discrete

: One significant benefit of iHeart Aligners is that people won't be able to see that you have an orthodontic implement. The thin, clear, plastic-like trays are virtually invisible, allowing you to inconspicuously achieve a straight smile. Traditional braces usually consist of metal brackets that are cemented to your teeth, and wires are used to position your teeth to achieve a straight smile. 

Removability

: Many patients appreciate that iHeart Aligners are removable. You take them out to eat, brush and floss, or for short periods for work, special events, or social occasions. 

Comfort

: While there may be some initial discomfort when you first switch to a new set of aligners, wearing

invisible aligners

is virtually painless and stress-free. Each tray is designed to guide your teeth gently into their ideal position. Traditional braces, which consist of metal brackets and wires, can be sharp and bulky, irritating the gums, lips, and mouth during treatment. 

Hygiene

: Because

clear aligners

are removable, your oral hygiene is minimally affected. You can pop them in and out while you eat, as well as when you brush your teeth. You can clean your retainers before slipping them back into place, too. Patients wearing traditional braces will need to keep their teeth, gums, and braces free of plaque and food debris so bacteria can't attack tooth enamel or cause inflamed gums.
Clear Aligner Process
   

Consultation and X Rays

: The first step in the process involves a visit to our dentist, Dr. Misty M. Seale, DMD, who will evaluate your oral health and decide if you're a candidate for iHeart Aligners. Once we determine that

clear aligners

are the best option for you, we will take a 3D scan of your mouth and jaw. We'll use these images to create an effective treatment plan for moving your teeth into their proper place.

   

Prep work and fitting

: We will make a mold of your teeth to custom-create the iHeart Aligners trays. We will ensure that the trays fit perfectly to your teeth. You can try them on and ask any questions about your impending orthodontic treatment at this time, too. These

clear plastic aligners

will apply pressure to your teeth, gradually shifting them and moving them into the desired places.

   

Length of treatment

: How long your treatment lasts usually depends on the complexity of your case. Straightforward cases can be completed with only a few months of treatment, while more complex cases can take up to 2 years.

   

Maintaining your smile

: To achieve the best results,

teeth aligners

should be worn for at least 22 hours a day – only take it out to eat, brush and floss. The more you wear it, the more they work. Each aligner is worn for 2-3 weeks at a time, after which the aligner should become loose, and it will be time for the next aligner. The iHeart Aligners are sequentially numbered, so you and your dentist will know which aligner in the package needs to be fitted next. This process will continue until your teeth are straight: you'll visit your dentist every six to eight weeks to ensure everything's going well. 
How To Care For Your Teeth While Using Clear Dental Aligners
Practice proper oral hygiene by brushing and flossing your teeth daily. In addition to your morning and bedtime brushing routine, you should also brush and floss each time you eat. This helps remove food particles that might otherwise get stuck between your teeth and the invisible aligner, allowing bacteria to eat away at your tooth enamel.
You should also rinse your trays whenever you take them out. This helps keep them wet to prevent plaque and saliva from drying on the trays, which can cause them to become stained and discolored. Be careful when cleaning your aligners and only use lukewarm water to clean them – if you use very hot water, it could warp the plastic. This can alter the fit and affect your progress and the effectiveness of the aligners. Also, avoid using toothpaste on your clear aligners since it's abrasive to plastic, which can damage them.
Cost of Clear Aligners
iHeart Aligners usually are priced at $5615.But we have an introductory offer of $3800.  Thiss includes all exams, X-rays, photos, impressions, scans, models, and aligners needed to complete treatment. This offer is not valid with any other coupons, offers, discounts, or insurances. 
You can also take advantage of our iHeart Aligners for Life program for $355/year, a membership offering huge savings and discounts to help you save on costs of relapse and yearly maintenance for your retainers. It is valid for the life of the membership and covers the cost of replacement retainers (up to 12 sets/year). You must sign up within 90 days after completion of orthodontic treatment to be eligible to join. This membership is exclusive only for iHeart Dental patients and cannot be merged with any other clear aligner brands or systems.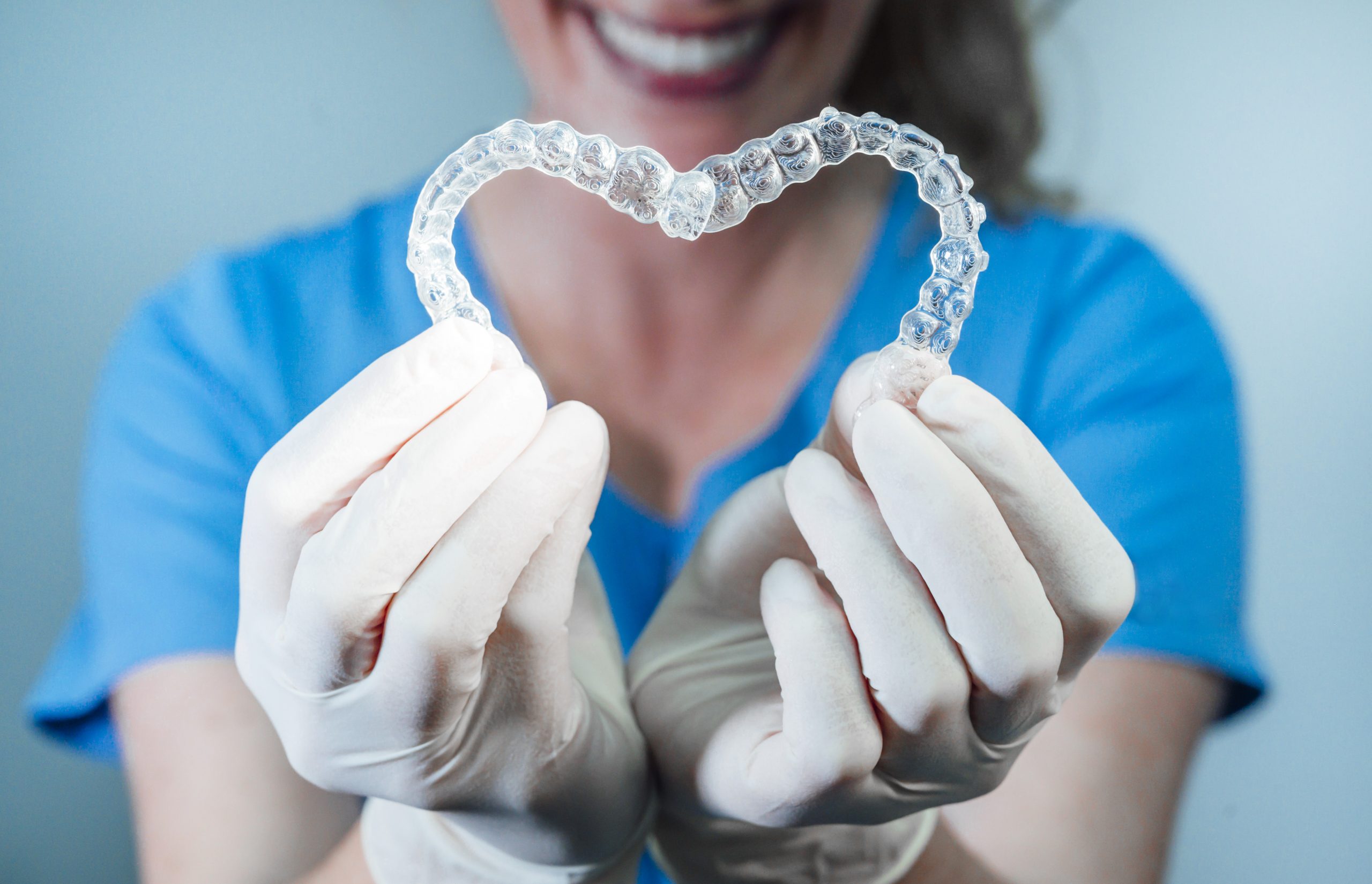 Schedule Your Appointment For iHeart Aligners Today!
Thanks to iHeart Aligners innovations and technology, our invisible aligners can fix multiple alignments and bite issues without interrupting your life. They're virtually invisible, comfortable, and removable, so you can take them out to eat, drink and brush. Contact us today to schedule an appointment and let us help you achieve the smile of your dreams!